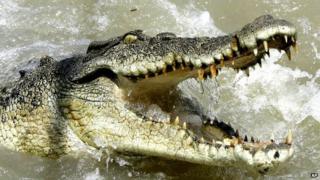 15,000 crocodiles have escaped from a farm in South Africa, during heavy rain and flooding.
They made their dash for freedom when owners of Rakwena Crocodile Farm opened the gates on Sunday to stop a huge surge of water.
Zane Langman, son-in-law of the owner, said many of them had escaped into dense forest and the Limpopo River.
Some crocs are reported to have turned up at a school rugby field in Musina 120 km away.
The floods have killed at least 10 people in Limpopo province.
Neighbouring Mozambique has also been affected, where tens of thousands of people have been forced to leave their homes.