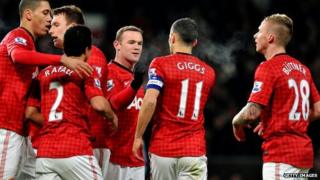 Five of the top ten richest football teams in the world are Premier League clubs, according to the latest figures for 2011-2012.
Real Madrid have stayed at the number one spot for eight years in a row with an income of €513 (£434.5), followed by Barcelona.
But Manchester United comes in at number three, with an income of €395.5m (£335.4m) and Chelsea, Arsenal, Manchester City and Liverpool all join United in the top ten.
Chelsea made a lot of money from winning the Uefa Champions League and the FA Cup.
Man City have leapt from twelfth to seventh, helped by them winning the Premier League.
Deloitte, the accountancy firm who created the list, said a new TV deal for the Premier League worth more than €3.5bn from 2013/14 means more English clubs could break into the top 20 in coming years.