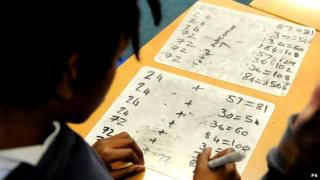 Nearly a third of parents of primary school children are 'scared' to help their kids with maths homework because they aren't confident in numeracy.
The poll of 2,000 parents of primary school pupils showed they found maths one of the toughest subjects to help their kids with, beaten only by French.
When tested on ten primary-level maths questions, just 5% of parents got all ten answers correct.
The study was done by the educational publisher Pearson.
In the ten-question test, a quarter of parents got a score of 4 out of 10 or less.
TV presenter maths whizz Carol Vorderman said: "Studies have shown that if parents help their children with homework they are more likely to succeed at school.
"It is therefore worrying that so many parents lack confidence in their own maths skills."