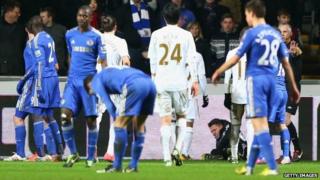 Chelsea midfielder Eden Hazard has apologised for kicking a ball boy.
The incident happened during his team's exit from the Capital One Cup against Swansea. Hazard kicked the ball boy, who appeared to be wasting time.
The Chelsea midfielder kicked out as he tried to retrieve the match ball from underneath the ball boy. Hazard was shown a straight red card.
After the match the ball boy and his father spoke to the police and decided not to press charges.
Blues boss Rafael Benitez said Hazard and the ball boy apologised to each other after the match.