People in parts of the UK are still struggling with the effects of heavy snow.
It's been falling thick and fast mainly in the south-west of the country over Tuesday and into Wednesday.
In Somerset, the snow was so bad it left travellers stranded, including a BBC TV crew who were filming there.
Jon Kay and his team, who were reporting from the Mendip Hills, had to stay with a family who lived nearby.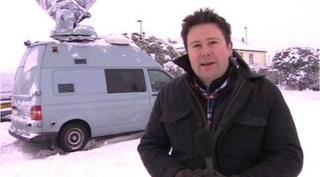 Weather experts say more snow is on the way and to watch out for ice.
There are yellow weather warnings in place for south-west England, parts of the midlands, Wales and also in eastern Scotland.
This means forecasters think people should be prepared for the snow as it could disrupt travel.