More than 100 UK aid organisations have come together to launch a huge campaign to try to end world hunger 'for ever'.
The 'Enough Food For Everyone IF' campaign aims to put pressure on the world's most powerful countries to keep their promises to give aid to poorer countries - despite the world's economic problems.
Charities like Save The Children and Oxfam, as well as Bill Gates - the man behind Microsoft - are asking the public to back the campaign too.
Around 870 million people around the world go hungry, according to the United Nations, which monitors levels of famine in different countries.
Famines can happen if food can't grow in places where lots of people live, and can be affected by government policies.
African countries like Ethiopia, Somalia and Sudan have been hardest hit in recent years because of drought and civil wars, with thousands of people dying of starvation.
Charities' biggest joint campaign
The 'Enough Food For Everyone IF' campaign is the UK aid groups' biggest joint campaign since Make Poverty History in 2005.
The organisations want rich countries to give more aid to help the poorest families feed themselves.
They also want governments to make companies in poor countries pay more tax to those countries.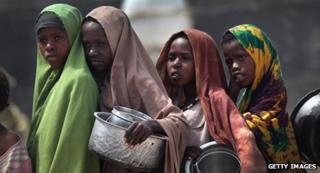 Getty Images
Campaign organisers said: "Hunger is the greatest scandal of our age. The problem is not a shortage of food, but that millions do not get the food they need. We know we can change this if we persuade our governments to act."
Justin Forsyth, head of Save the Children, added: "We could be the first generation to end hunger for ever".
Another supporter, Archbishop Desmond Tutu, said he believes that hunger is something that can be tackled.
"Hunger is not an incurable disease or an unavoidable tragedy. We can make sure no child goes to bed hungry," he said.