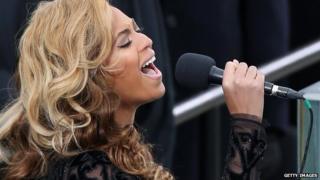 Getty Images
Pop megastar Beyonce has been accused of faking her performance of the US national anthem on Monday.
Some newspapers say she pretended to sing but was actually miming along to a recording of her singing.
The band playing the national anthem confirmed they pretended to play their instruments for the performance.
They told BBC News that they decided not to play their instruments live because Beyonce didn't have time to rehearse with them.
But they refused to comment on Beyonce's singing. They said: "No-one in the Marine Band is in a position to assess whether it was live or pre-recorded."
Beyonce stole the show when she performed the Star Spangled Banner at Barack Obama's inauguration.
She even pulled out her earpiece during her performance - suggesting she couldn't hear her own vocals.
Beyonce's spokesperson hasn't commented on the performance yet.