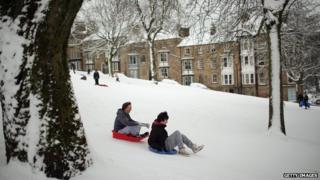 The man in charge of schools in England says more needs to be done to keep them open in wintry weather.
The government's Education Secretary Michael Gove was speaking after 5,000 schools across the UK closed because of snow on Monday.
He said: "While the decision on whether or not to remain open or closed is a matter for the head teacher, everything can and should be done in order to ensure that all children get access to a good education."
However Mr Gove said schools would not be punished if students could not attend.
Thousands of you had the day off on Monday because head teachers felt the weather was too bad for lessons to take place.
Hundreds more schools were closed on Tuesday because of the snow.
More of the white stuff is hitting parts of Scotland, northern and southern England.
About one in six schools in the UK, and tens of thousands of pupils have been affected by severe weather.