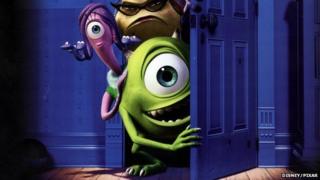 Monsters, Inc is not a new film but it's probably one you've never seen before and it's back in cinemas again - this time in 3D.
It first came out in 2001 and was so good it won an Oscar!
It's made by Pixar - the same people that made Toy Story and Up which you may have seen and probably loved.
What's it about?
The story is set in Monstropolis where the monster inhabitants rely on the screams of children to power their city.
It follows two monsters called Mike and Sully who are best mates and work as scarers at the Monsters, Inc company which collects screams and turns them into power.
The city is facing a big problem getting kids to scream because they are much harder to scare, so it's up to Mike and Sully to try and find a new way to scare kids.
But something goes wrong and a little girl breaks into Monstropolis and causes mayhem.
The stars
Mike and Sully are played by actors that your parents will know (John Goodman and Billy Crystal) but you might not know who they are.
However if you saw the film The Artist you'll recognise John Goodman as he stars in it alongside mega star mutt Uggie!
Hit or miss?
Massive, massive, massive hit!
It might be a bit old (11 years old to be precise!) but this is a film that is still brilliant for the entire family.
The 3D works really well because the animation on the monsters is really crisp - for example Sully's hair which is always shaking around and poking about.
There's a great action scene towards the end as well where doors are flying around that looks amazing in 3D.
If you prefer to watch your movies in 2D I'd still definitely recommend it. It's got a great story that has a few surprises in it especially at the end.
The monsters are really weird to look at and there's loads of attention to detail and funny little facial expressions.
Mike and Sully are also a hilarious double-act who argue quite a lot but you can tell they are best buds and it's fun to watch.
So when you throw in the really cute little girl that they are all terrified of - it's got everything.
You can see how it won an Oscar!
When's it out?
It's out now! In 2D and 3D.
NR Rating: 5/5