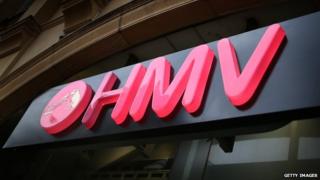 Troubled high street store HMV has been saved from going bust.
A company called Hilco, which specialises in helping struggling businesses, has taken control of the CD and DVD specialist.
They don't officially own HMV yet but have been put in charge managing the company's £176m debt, having already saved HMV in Canada from a similar collapse.
HMV originally went into administration on January 15.
Music Labels
It's not yet clear what Hilco will do with HMV's stock of CDs and DVDs, or their 239 UK stores, but music labels are said to be pleased with the news after pushing for as many shops as possible to stay open.
HMV announced they were in trouble in December 2012 as they struggled to compete with online rivals, supermarkets and illegal downloads.
The company recently said customers would be able to use gift vouchers in stores from Tuesday 22 January onwards.
They had previously stopped accepting payments with gift cards when they went into administration.