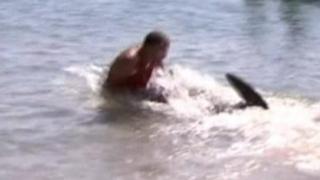 Shark wrestler hailed a hero
A British granddad on holiday in Australia has grabbed a shark by its tail and dragged it away from people playing in the sea.
Paul Marshallsea from South Wales has been hailed a hero for fighting with the two-metre long creature and pulling it out to deeper water.
The holidaymaker said: "Where this shark actually came ashore it's shallow for about five or six yards and a lot of babies and toddlers splash about there - it could have very nasty.