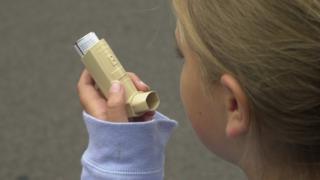 Fewer children in England have been taken to hospital with severe asthma since a ban on smoking in public places was introduced in 2007, a new study has claimed.
Researchers at Imperial College London found the number of child admissions went down by more than 12 per cent in the first year after the law was changed.
Lead researcher, Prof Christopher Millett, said: "This benefits children because they're less likely to be exposed to second hand smoke."
The smoking ban in public places, like restaurants and offices, was created to protect non-smokers from breathing in smoke.
There were fears that the ban would mean more people smoking in their homes, but the report also found that is not the case.
'Encouraging'
The health charity Asthma UK says the findings are "encouraging".
Emily Humphreys from the charity said: "We have long known that smoking and second hand smoke are harmful - they not only trigger asthma attacks which put children in hospital but can even cause them to develop the condition."
Asthma is a condition which can cause breathing problems, wheezing, coughing and a tight chest.
More than 5 million people are treated for asthma in the UK.
That is one in every 11 children and one in every 12 adults.