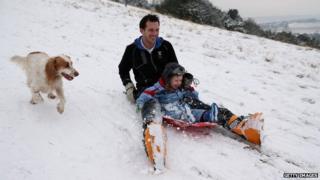 Good news for snow lovers - the UK is set for more snow and ice on Sunday.
Much of the country could see some light snow, but as much as 8cm is forecast for south-east and eastern England, and north-east England later.
The white stuff has caused lots of travel problems, with more than 250 flights at Heathrow set to be cancelled on Sunday.
The country is set to freeze for a bit longer, with the wintry weather due to continue into next week.
Weather forecasters at the Met Office have put out a yellow "be aware" ice warning for much of the UK.
They're calling on people to be aware of difficult local travel conditions because of snow and icy surfaces.