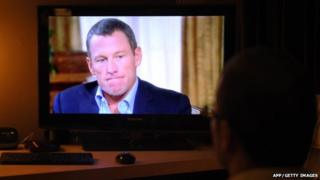 Disgraced cyclist Lance Armstrong says he wants to compete in sport again.
He's been given a "death penalty" punishment for using performance-enhancing drugs. It means he's banned for life from all sports.
But the seven-time Tour de France winner said in a TV interview: "I deserve to be punished. I'm not sure I deserve a 'death penalty'.
"I'd love the opportunity to compete, but that isn't why I'm doing this."
He made the comments in part two of an interview with US host Oprah Winfrey.
But Armstrong accepted that it is unlikely his ban will be lifted.
He also said he feels "disgraced, humbled and ashamed" by his actions.
In the first part, he finally admitted to using drugs to help him win races.
What Armstrong did has angered many people in the cycling world, including former GB Olympic champion Nicole Cooke.