Roy Hodgson has been talking to Newsround about the importance of investing in the future of football.
The England boss praised the FA's new national centre, St George's Park: "That's a big, big step for the Football Association and the game of football in this country."
He said: "We've talked about making sure young people who are watching this interview who like football - they get a chance to get better at it. St George's Park is a big, big step along the way on that front."
Grassroots
On investing in grassroots football, Roy Hodgson said: "I take as much responsibility for everything under the senior first national men's team as I can possibly do."
He added: "The FA take it unbelievably seriously and we have an incredibly large body of people whose sole job is grassroots football - how we're investing, are we investing it wisely?"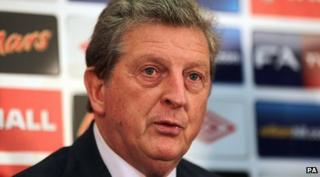 PA
Manager job
Roy Hodgson, speaking to us as the FA celebrates its 150th anniversary, has been England manager for nine months.
He said about getting the top job: "As an Englishman it's the pinnacle of any success you can have.
"When the FA came to me nine months ago and offered me the job, that in itself was a red letter day in my life and football career.
"Up to now I've really enjoyed the nine months and if we qualify [for the World Cup] I shall enjoy the next as well!"
Picking squads
A big, and tough, part of the manager's job is choosing who's in the squad.
Hodgson told us: "Picking squads is always difficult when everyone's fit and anxious to play. There's no easy way to break someone's heart.
"At this particular moment in time I think our pool of players that we can select from, if anything, is bigger than it perhaps was, or at least I thought it was, nine months ago.
"That's got to be positive. And it's also positive that some of these players are young ones."