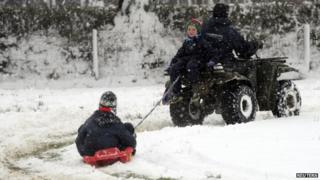 Most parts of the UK have seen snow over the weekend - and we've been finding out what you're doing in it!
more More than 3,000 schools closed across England, Wales and Scotland on Friday because of the white stuff.
The snow eased on Saturday, but more snow has been falling on Sunday.
Snow and ice have been causing big problems for public transport, including hundreds of cancelled flights.
Are you enjoying the snow?
If you need some inspiration then check out our top 5 fun things to do in snow.
Thanks for sending us your comments. This chat page is now closed.
Your comments
Monday
"I went sledging with my little brother and my friend. The snow in the park was really steep and we had a lot of fun there."
Marina, Huddersfield, England
"I've been at school all day doing boring work but at lunch we had a whole school snowball fight on the field!!"
Katherine, London, England
"Me and my friends have been going to school in the snow."
Tia, East Sussex, England
"I went sledging down a massive hill and I made a massive igloo and a cartoon character out of the snow."
Imogen, Staffordshire, England
"Obviously I am happy to have a day off school but I am a bit bored because my mates aren't here with me to have a laugh and do what we do usually."
Sophie, Huddersfield, England
"We have had a lot of snow here but I've been ill so it really frustrates me sitting inside watching my friends have fun in the snow whilst I'm recovering."
Ailsa, Hertfordshire, England
Sunday
"I made one big fruity snowman - the mouth a banana and tomatoes for the eyes, but not a carrot for the nose. Celery and cabbage leaves for the hair under a very big hat and scarf. All done by 7:30 in the morning. Soooooo fun!!"
Tallulah, London, England
"My little brother, my dad and I carved a sphinx out of the snow and had a wonderful snowball fight!!!!!!!!!!!!!"
Fahad, Coventry, England
"I have a snow zoo, I have got two snow cats, two snowmen, a snow dog and a snow hamster!"
Meghan, Gloucester, England
Saturday
"Today I made a huge snow spider, my mum made a snow chicken and her boyfriend Tim made a tiny snow elephant! Then we went sledging and I flew through the air after taking off over a snow ramp!"
Toby, Newbury, England
"My dad and I made an igloo, it was awesome. We had hot chocolate in it and chatted for ages. It took us three hours to finish it and now it has a roof!"
Sady, Hazlemere, England
"I am having a great time! My mum, my sister and I are building a snow car. Hope you are having a great time."
Olivia, Tonbridge, England
"My sister and I made a snowman city!"
Sally, London, England
"My brother and I were making a snowman last night, I was so excited. We walked down the road today to buy a sledge but by the time I got home the snow had melted. :("
Sophie, Edinburgh, Scotland
"I made five snowmen yesterday and used up most of the snow on my estate! Now I need to wait for more snow to build some more!"
Abigail, Taunton, England
"I built a massive snowman and I had to use a shower cap for the hat!"
Emily, Barnsley, England
"I was up until 10:45 last night making snowmen, snow angels, having snowball fights, watching the snow fall down, and sledging with my friend who was at my house because it was my birthday!"
Jess, Bedford, England
"My brother and I are making a farm of animals with snow!!!"
Olly, Surrey, England
"The snow is up to my knees where I live and I keep on losing my dog in it."
Izzy, Brecon, Wales
"Staying in the warm!"
Holly, Hereford, England
"My friends and I are having a snowman competition, the biggest wins!! And then were going to have hot chocolate and marshmallows!!!"
Lucy-Jane, London, England
"I've done all the things on the list of top 5 things to do already and I've created a snow Wenlock and a snow Mandeville."
Alex, Malmesbury, England
"My cat likes going in the snow. She was making paw prints in it and it was really cute! I think my cat enjoys the snow more than me!
Simone, Cheltenham, England
"I'm really enjoying the snow. I made my dad make an igloo with my brother and me."
Lewis, Lichfield, England
"My sister and I are going to make a massive snow elephant."
Hollie, Banbury, England
"In the snow I have been trying to make a snowman but my dog Malcolm keeps on destroying it."
Hannah, Alveley, England
"Today my mum, dad and I are going sledging on my new sledge!!! Yesterday my neighbour and I went out in the garden and made a mechanical snowman with two other friends who came over. We also ganged up on my dad and defeated him in a snowball war!!!!!!"
Ellie, Staines, England
"Today we're going sledging and yesterday we made a snowman that was 6 foot tall but someone knocked it over. We are rebuilding it today! :-)"
Anna, Bognor Regis, England
"I have had snowball fights with my little sister. Then after that we made a snowman and wrote our names in the snow, then finally snow angels. My sister and I love snow."
Kayleigh, Bradford, England
"In the snow, I made a snowperson sitting in a chair with my friend Rhiannon."
Emily, UK
"I am building lots of snowmen and using my border collie Tilly to drag me along my hill. She loves trying to eat the snowballs."
Maddie, Southampton, England
"There is no snow here in East Kilbride, it's just a bit icy, but I wish it was snowing."
Laura, East Kilbride, Scotland
"I have been sledging down a hill with my dad and our dogs chase us all the way down. :-)"
Tilly, Knighton, Wales
"I've been building igloos and sledging with my friends in my garden."
Anna, Salisbury, England
"Today I'm probably going to have a really big snowball fight with my dad and then I will make a slope so I can slide down it. Afterwards I will have a nice cup of hot cocoa."
Neve, Wisbech, England
"I went sledging yesterday and I'm going today."
Adam, Oxfordshire, England
"I am going round my cousin's for a snowball fight."
Kelsey, Bognor Regis, England
"It's really annoying for me that it's snowing, because for the last few days I've been ill - so I haven't been able to go outside. Otherwise I'd be out throwing snowballs, making snowmen, and making trails in the snow."
Megan, Shrewsbury, England
"I am going to have a snowball fight then I will make a snowman."
Sara, Liverpool, England
"I haven't thought yet, but I might go sledging!! The last time I went, the snow made the car get stuck halfway up a hill!! So we had to push it back down!!"
Erin, Bedford, England
"My dog loves snow so we took him out into the garden and he rolled around and played for ages!"
Eve, Bath, England
"Nothing unfortunately because we have had no snow. I really am sad. Sniff."
Lucie, Cornwall, England