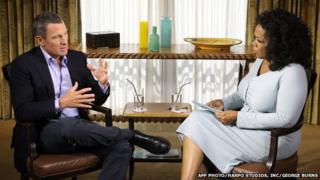 AFP PHOTO/HARPO STUDIOS, INC/GEORGE BURNS
Cycling star Lance Armstrong has finally admitted he took drugs to help him win the Tour de France seven times.
After years of denial, the 41-year-old came clean in a TV interview with US host Oprah Winfrey.
"I view this situation as one big lie I repeated a lot of times," he said. "I made those decisions, they were my mistake and I'm here to say sorry."
Armstrong was stripped of his seven Tour de France titles last year.
He said his supporters had the right to feel betrayed: "I'll spend the rest of my life trying to earn back trust and apologise to people."
But he felt he wasn't cheating at the time: "I viewed it as a level playing field."
When asked if doping was part of the process needed to win the Tour, he said: "That's like saying we have to have air in our tyres or water in our bottles. It was part of the job."
Armstrong also admitted in the interview that he was a bully: "I was a bully in the sense that I tried to control the narrative and if I didn't like what someone said I turned on them."
The cyclist said he would now co-operate with official inquiries into doping in cycling.
Other top sportspeople have criticised Armstrong's behaviour.
British Olympic gold medallist, cyclist Nicole Cooke, says she thinks his actions were 'disgusting', while tennis superstar Novak Djokovic says Armstrong should have all his titles taken away.