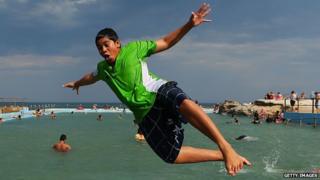 If you think it's really cold here in the UK - Australia's having one of its hottest ever summers.
The city of Sydney had its hottest day on record on Friday, with temperatures reaching nearly 46C.
A temperature of 45.8C was recorded at Observatory Hill in the city, in mid-afternoon local time.
Some areas nearby Sydney were even hotter, with the town of Penrith, to the west, getting up to 46.5C.
The previous recorded high in Sydney was in January 1939, when the thermometer topped 45.3C at Observatory Hill.
Firefighters are still battling dozens of wildfires sparked by the extreme heat in the states of New South Wales and Victoria.
On Friday, Australian Prime Minister Julia Gillard reminded Australians to "take the appropriate precautions to stay safe".
'Be prepared'
Officials in Sydney have warned people to be ready for the heat, take care, avoid strenuous activity and stay out of the sun.
The heat has damaged wiring to railway lines, bringing delays to much of the network - CityRail have warned passengers to carry water with them.
The heatwave across Australia in recent weeks has been so intense that weather forecasters have had to add a new shade to its colour-coded temperature chart, so the scale now reaches above 50C.
However, meteorologists have forecast a dramatic change in weather this weekend in Sydney, with thunderstorms expected to bring a rapid drop in temperatures.