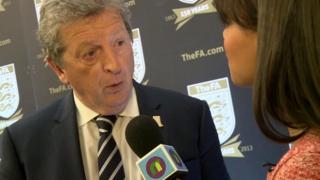 Roy Hodgson on England's future
Roy Hodgson has told Newsround he thinks the FA is doing enough to inspire the next generation of players.
He's got a busy year ahead - the national team still need to qualify for the 2014 World Cup.
And they have friendlies against Brazil, Scotland and the Republic of Ireland to prepare for.
But if the England team want to become the best in the world they'll need to rely on the players of the future to win them trophies.
Leah caught up with Roy Hodgson on the day the Football Association celebrated its 150th anniversary.