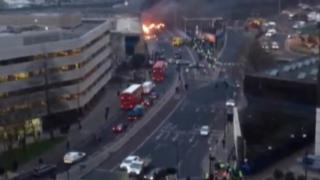 Helicopter footage
The emergency services are responding to a helicopter crash in south London after reports it hit a crane.
Two people have died and the emergency services are at the scene. Police say nine people are injured and one person is critically ill.
Roads near Vauxhall station have been closed and a crane at the top of a new high rise building appears to be damaged.
Witnesses have reported seeing debris on the ground and dark grey smoke.