Two people were killed and 12 were hurt when a helicopter crashed into a crane on top of a building in central London.
The pilot, who was killed, had asked to be diverted to a nearby heliport because of bad weather.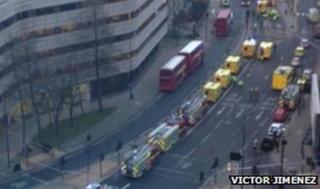 Victor Jimenez
Five people were taken to hospital, one with a broken leg and seven people were treated at the scene.
Part of the crane was left hanging from the side of the building, which is still under construction.