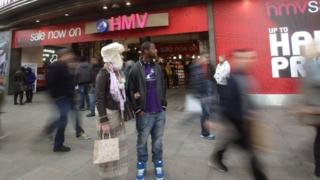 High street
Music, game and DVD chain, HMV, could soon be disappearing from our towns and cities.
The shops haven't been doing very well in recent years and suffered poor sales over Christmas.
A company has been brought in to try to see if all or some of HMV's shops can be kept going.
HMV aren't the only high street shops that are in trouble. Camera retailer, Jessops, and digital retailer Comet have both closed down recently.
Customers are now buying lots of their goods online because they often get better deals and can shop from the comfort of their own home.
There are now fears that high streets and shopping centres will start to look very different if more shops shut.