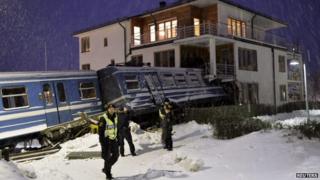 A cleaning woman is seriously hurt after she apparently stole a train and crashed it into a house.
It happened in a suburb of Stockholm, the capital of Sweden.
The train was empty but there were three families in the house. Luckily, none of them were hurt.
The railway firm, Arriva, said the woman was an employee of theirs. She was flown to a nearby hospital. They are now investigating the incident.