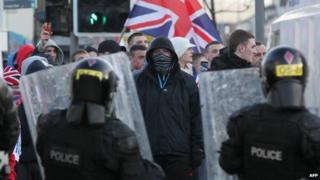 Riots broke out in east Belfast on Monday night following further protests over the union flag.
A police officer was injured and a bus driver was also hurt, when rioters threw stones at the vehicle he was driving.
Several protests took place in the Northern Ireland city but violence only broke out in the Short Strand area.
Witnesses say people were throwing petrol bombs and stones at houses, the police and passing buses.
The bus driver was taken to hospital for treatment for cuts on his face.
At the time, several children were at a nearby church for a social event. Workers at the church said it was very frightening for them and they had to make sure the children could get away safely.
Police officers used water cannon against the trouble makers. They arrested a 17 year old boy.
Since protests began six weeks ago, 102 police officers have been injured and 116 people have been arrested.