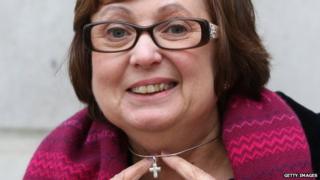 A woman has been told by the European Court of Human Rights that she should have been allowed to wear a Christian cross at work.
Nadia Eweida's employers, British Airways, banned visible jewellery but the court said that went against her human rights.
BA banned the cross a few years ago but changed their uniform policy in 2007 to allow crosses. Nadia wanted the decision to be confirmed by law because she believes people should have a right to express their religion.
The court's decision doesn't mean that everyone will be able to wear religious symbols at work - companies will still be able to set reasonable uniform rules and expect their employees to obey them. In this case, it was decided that British Airways was being unreasonable.