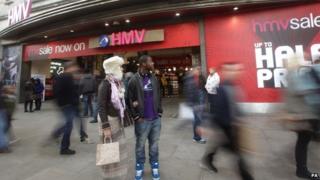 Music, game and DVD chain, HMV, could soon be disappearing from our towns and cities.
The shops haven't been doing very well in recent years and suffered poor sales over Christmas.
A company has been brought in to try to see if all or some of HMV's shops can be kept going.
HMV aren't the only high street shops that are in trouble. Camera retailer, Jessops, and digital retailer Comet have both closed down recently.
Customers are now buying lots of their goods online because they often get better deals and can shop from the comfort of their own home.
There are now fears that high streets and shopping centres will start to look very different if more shops shut.
What do you think?
How would you rather shop? Perhaps you enjoy going into stores so you can try before you buy?
Or maybe shopping online from your living room suits you better?
Do you think it matters if shops disappear from towns?
What would you rather see in the high street instead?
If you send us a comment, it may be published on the Newsround website, and some comments may be used in our TV bulletins. We'll use your first name and your home town to show that it's your comment; your personal details won't be used for anything else.
It's really important to make sure you get your parent, teacher or guardian's permission before you send us a comment.
Your comments
"Yes it matters they shouldn't shut the shops because there won't be anywhere to go and if we don't have access to the internet then how are we going to buy things."
Sophie, Huddersfield, England
"I think it's better if some shops close down, hopefully the most expensive ones. I like my parents to shop online, because it means that you can split in into groups, whereas in the shops, its in aisles, that normally are quite long. If you shop online you can also see the price without having to figure it out, whereas, in shops, unless you figure it out beforehand, you get a surprise at the end if its really expensive."
Rhys, Gloucestershire, England
"I think that shopping online is a good way to save money..."
Daniel, Castleford, England
"I think it will be a shame to not have many shops in the high street because if you have family down there will be nowhere to take them."
Mariam, Swindon, England