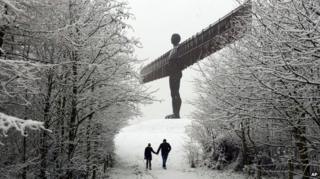 If you take a look outside there's a chance you'll see some snow.
And you'll probably see a lot more this week because forecasters say more is on its way.
Temperatures are expected to drop as well with some areas of Scotland reaching -10C and parts of northern and eastern England as low as -5C.
The snow has also caused disruption to the railways, with several cancellations on routes between London and East Anglia.
Airports in the UK say they are operating as usual but are advising passengers to check before they travel.
Forecasters have predicted a cold, frosty but drier day on Tuesday but are warning of further snow showers to affect eastern coasts.