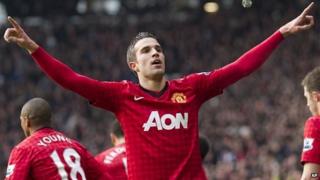 Robin van Persie scored his 10th goal in 10 games to help Manchester United beat Liverpool 2-1.
The Dutchman was on fine form - scoring the first goal and setting up the second.
The victory for united means that Sir Alex Ferguson's men remain seven points clear at the top of the Premier League.
Second-placed Manchester City managed to brush past Arsenal 2-0 to keep the pressure on their neighbours.
The Gunners went down to ten men after Laurent Koscielny was sent off for a foul on Edin Dzeko in the penalty box.
Dzeko missed the resulting penalty but City poured forward and James Milner put them ahead with a great finish.
And it wasn't long until Dzeko made up for his penalty miss. The forward scored from close range before halftime to make it 2-0.
Arsenal dug in after half-time and their fans had a ray of hope when Vincent Kompany was sent off but City held on to take the three points.