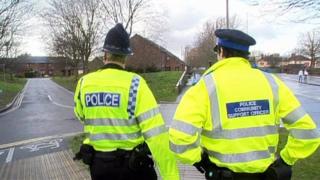 The number of young police officers in England and Wales has nearly halved in two years.
Official figures show there were 9,088 officers under the age of 26 in 2009-10 but only 4,758 in 2011-12.
It's thought the big drop is down to police forces not hiring as many new officers to save money.
The government has cut the amount of money it gives to forces since the financial crisis.
'Worrying'
Overall, there are nearly 10,000 fewer police officers of all ages than there were in 2009/10.
Olly Martins, who is the Police and Crime Commissioner for Bedfordshire, said the fall in the number of young officers was very worrying.
"To be as effective as possible, forces need to look like the communities they serve. This is particularly true when it comes to the need to engage with younger people", he said
A government spokesperson said: "Recruitment is a matter for individual forces and it is for chief constables and police and crime commissioners to ensure they have the right mix of officers."