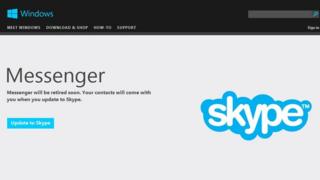 Microsoft is switching off its Windows Live Messenger service on 15 March 2013.
On that date Messenger log-ins will no longer work and users must turn to Skype.
In an email sent to all Messenger users, Microsoft encouraged them to update to Skype and get used to the service before the switch-off.
Microsoft bought Skype in October 2011 and says the new service will offer more, including video chat and games.
The Windows Live Messenger was known as MSN Messenger when it first launched in 1999.
It allows people to send instant messages and is thought to be used by about 300 million people every month.