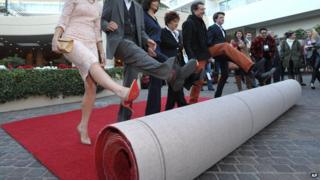 Hollywood rolls out the red carpet and kicks off the film and television awards season with the Golden Globes.
Steven Spielberg's Lincoln, about former US president Abraham Lincoln, has the most nominations.
Castaway adventure Life of Pi, about a boy stranded on a lifeboat with a hungry tiger, is up for 'Best Drama'.
It could also be a big night for Les Miserables and Hugh Jackman - otherwise known as Wolverine from X-Men - who is nominated for 'Best Actor'.
The Golden Globes are the first major awards to be given this year, and are seen as a more relaxed version of the Oscars.