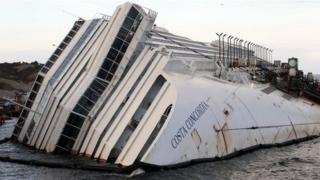 Costa Concordia out by September
The wreck of the Costa Concordia cruise ship in Italy will be removed by September at the latest, officials say.
It has been lying on its side in the water since it hit rocks and sank off the Italian coast exactly a year ago.
More than 30 people lost their lives in the tragedy on 13 January 2012.
Survivors and relatives of those killed will attend ceremonies to mark the anniversary on the Tuscan island of Giglio where the ship overturned.