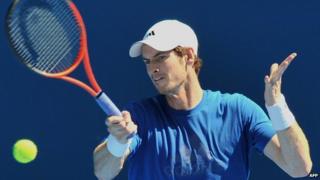 Andy Murray has been drawn against Dutchman Robin Haase in the first round of the Australian Open.
US Open champion Murray will hope to ease past the world number 54, in his bid for a second Grand Slam title.
The British number one could face Juan Martin del Potro in the last eight and Roger Federer in the semi-finals.
Murray has been drawn in the opposite half to world number one and defending champion Novak Djokovic, meaning they could only meet in the final.
'Laid-back atmosphere'
The Scot has a 1-1 record against Haase, and their last match was a dramatic five-set victory for Murray at the 2011 US Open.
Speaking before the draw, he said: "It sounds clichéd but I don't really ever look beyond the first round of the draws.
"I always love coming out to Australia, it's a great Slam and all the players love it, there's a laid-back atmosphere here and it definitely beats the weather back home this time of year.
He added: "I've performed consistently here and have been in two Grand Slam finals here in the last few years, but I'm aiming to go one better this year."
The first-round matches will be played on Monday 14 and Tuesday 15 January.