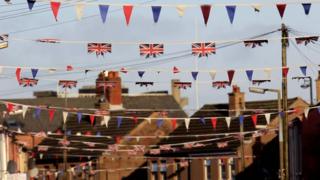 The union flag, with represents the UK, will fly at Belfast City Hall on Wednesday for the first time since a series of violent protests.
It's to mark the Duchess of Cambridge's 31st birthday.
On December 3, councillors in Belfast voted not to fly the flag all year round, a decision which angered loyalists, who want Northern Ireland to stay part of the UK.
Since then, there have been violent demonstrations on the city's streets.
On Tuesday, police were attacked with petrol bombs and fireworks for a sixth night in a row in east Belfast.
More than a 100 people have been arrested since the violence started in December, with many police officers injured.
There are worries that children as young as 10 are getting involved in the protests and politicians in London and Belfast have been speaking out against what's been going on.
Under the new plans by Belfast city council, the union flag will be flown on 18 specific days to mark important events.
Nationalists - who think Northern Ireland should be a part of the Republic of Ireland - wanted the flag to be taken down completely from Belfast City Hall. But loyalists want to see the flag flown all year round.
More information
To find out more you can watch Joe's report from Belfast.
And check out Newsround's guide to Northern Ireland.