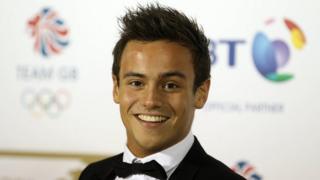 Diving star Tom Daley has been urged to cut down on his TV work or risk missing out on an Olympic gold medal in the future.
The advice comes from David Sparkes, chief executive of British Swimming.
He told a newspaper that Tom should wait until his competitive career is over before doing programmes such as new reality TV show Splash!
"The next Chinese diving superstar will not have such distractions from training," Sparkes said.
But Daley's agent said British Swimming knew about Splash! before Tom started filming and that the programme was not affecting his training.
"We would only agree to such an undertaking at a quiet time of the year," Jamie Cunningham said.
"Tom is fully on course to perform at his best at the world championships in the summer."
Tom Daley won bronze in the men's 10m platform dive at the London 2012 Olympics.
To find out more check out our Tom Daley quiz.