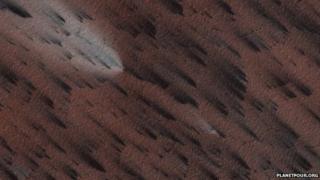 People are being asked to help study the surface of Mars, using data gathered by the Mars Reconnaissance Orbiter (MRO) spacecraft.
Millions of photos taken by the MRO have been uploaded online for members of the public to look through.
Anyone who's interested in space is asked to explore the images and note down anything unusual they see.
"We don't really know what might or might not be there," said Dr Chris Lintott from Oxford University.
"When you're exploring new territory you always expect the unexpected, this is a very un-Earth like place," he added.
Using the information sent in by members of the public, scientists hope to find out more about Mars' atmosphere and what the weather's been like there for the last few years.