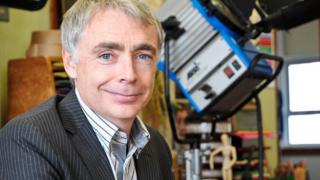 The first author of a new series of Doctor Who short stories has been named as Eoin Colfer.
He's best known for writing the Artemis Fowl books, which are all about the adventures of a teenage criminal mastermind.
Colfer's Doctor Who story will feature the first ever Doctor, played on TV by William Hartnell from 1963 to 1966.
Other children's authors will also write stories in 2013 to celebrate Doctor Who's 50th anniversary.
The first in the series is set in London in 1900 and will take the Doctor on a "dangerous journey" in search of a "missing hand".
Eoin Colfer said he's always been a big Doctor Who fan:
"I had been reading the Doctor Who books for years before I ever saw a single episode and I found that the on-screen version of the Doctor was almost identical to the version in my imagination".
As well as the short stories, special TV episodes of Doctor Who are planned to celebrate the 50th anniversary.
National TV Awards 2013
It's been announced that Doctor Who is up for three big prizes at the National TV Awards.
The series is up for 'Best Drama', against Downton Abbey, Merlin and Sherlock.
Matt Smith is nominated for 'Best Male Performance' with Karen Gillan, who played the Doctor's companion Amy Pond, up for 'Best Female Performance'.