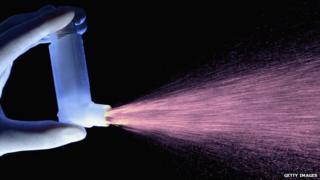 A simple spit test could help thousands of children with asthma who are taking medication which will never work for them, scientists say.
All kids with asthma are given a blue inhaler, but tens of thousands of children in the UK are also given salmeterol in purple or green inhalers.
It is used to relax airways in the lungs of children who can't control their asthma with the blue inhaler.
However, a new study says only one in seven people will respond to the drug.
The reason why some children don't respond to salmeterol is hidden in their genetic code.
DNA taken from a child's spit can be tested to reveal whether they are able to respond to the drug.