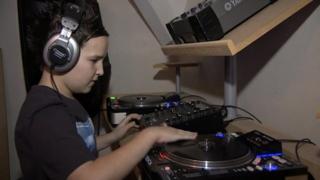 Watch DJ Jack talk about his new record
A 12-year-old DJ is waiting to hear whether he's become the world's youngest record producer.
DJ Jack already has one world record for being the youngest DJ.
But after producing his own dance track, 'Club DJ', Jack's now asked officials from the Guinness Book of Records to judge whether he deserves another accolade.
Jack, who started DJing when he was three, made his dubstep tune before Christmas in a recording studio.
"I laid down the track and got some beats together. Then I rapped it and it all went together," he said.
In 2012 Jack's skills saw him make the semi-finals of Germany's version of TV show 'Britain's Got Talent'.
Newsround first caught up with Jack when he was nine-years-old - check out his special press packer's report here.