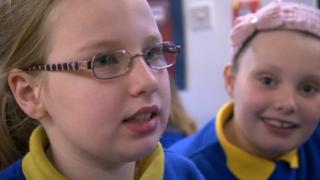 Blackpool children tell us what they think
A council in England has started giving free school breakfasts to all primary school kids.
The three-month trial is taking place in Blackpool, where schools say too many pupils are coming in hungry.
Some UK schools already offer free breakfasts but often they're only for kids whose parents earn less than a certain amount of money.
The local council in Blackpool hope that giving all pupils a healthy breakfast will help kids "focus".
Groups that represent teachers, like the National Association of Head Teachers, say the plan could have a "huge impact".