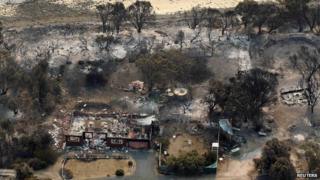 Australia's Prime Minister Julia Gillard is visiting parts of the country hit by big wildfires.
More than 100 buildings have been destroyed and whole communities cut off by the fires, which broke out on the island of Tasmania on Thursday.
Speaking in the state capital, Hobart, Ms Gillard said help would be given to those in need.
"The nation is standing with the people of Tasmania at this very, very difficult time," she said.
High temperatures
There are warnings of more hot weather across Australia that could lead to further wildfires.
Ms Gillard pointed out that fires were still being fought in some areas, calling for people in Tasmania and also in New South Wales, where very high temperatures are expected, to be prepared.
A total ban on the lighting on fires is to be put in place in New South Wales as well as the Canberra region.
Australia's affected by wildfires every year as temperatures climb, drying out the land and making it easier for fires to start.
In February 2009, on what has come to be known as Black Saturday, 173 people were killed in fires in the state of Victoria.
So far, no deaths have been reported in the latest wildfires.