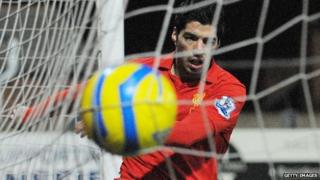 Liverpool reached the fourth round of the FA Cup after a controversial goal from Luis Suarez gave them a 2-1 win at Mansfield Town.
Suarez looked to have touched the ball in the build up to scoring the winning goal.
But Mansfield manager - Paul Cox - did not challenge the score, saying he felt Suarez had just acted on instinct.
Many Mansfield fans were angry though, and the Stags kept the pressure on Liverpool throughout the second half.
Striker Matt Green managed to pull a goal back for the non-league side 11 minutes from the end of the match but it wasn't enough to beat the Reds.
Liverpool will now face Oldham Athletic in the fourth round of the FA Cup.