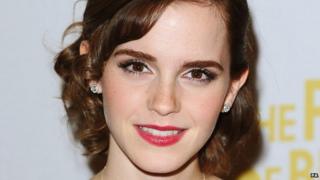 Harry Potter's friend Hermione has been voted the best big screen role model in a poll of young film fans.
The clever Hogwarts student picked up almost one in five votes in a survey by a film rental company and kids charity, Filmclub.
1000 schoolchildren were asked to name which film heroes inspired them.
Hermione, played by Emma Watson in the Harry Potter films, beat characters like Matilda and Toy Story's Woody.
Charlie Bucket - the poor boy who wins a chance to visit Willy Wonka's chocolate factory - in Charlie and the Chocolate Factory came second.
He was followed by another Roald Dahl creation, Matilda Wormwood, who was played in the 1996 film by Mara Wilson.
Filmclub's Sam Wainstein said: "Films can have a powerful influence on the way children behave and interact with people around them."
"Characters that young people identify with tend to stay with them the longest and positive behaviours can be learnt by watching the way that fictional characters handle certain situations on-screen."