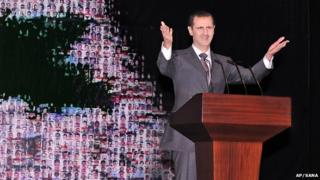 The president of Syria has given a rare TV speech, calling on Syrians to stand up and fight those threatening the country's future.
President Bashar al-Assad labelled his enemies "terrorists" and "puppets of the West" - and said he would not talk with them.
He outlined a peace plan, which included a national meeting to discuss Syria's future, and fresh elections.
But his ideas were quickly dismissed by his opponents.
UK Foreign Secretary William Hague said the promises of change "fool no one".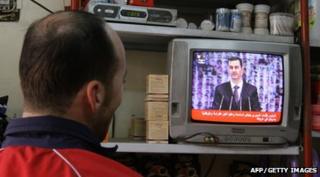 The conflict in Syria has been going on since March 2011, with fighting between President Assad's government and rebel forces who want him out of power.
More than 60,000 people have been killed in that time, according to the United Nations.
This speech is the first time President Assad has spoken to the public since June.
It was done in front of cheering supporters at the opera house in the capital Damascus, and he was mobbed at the end.