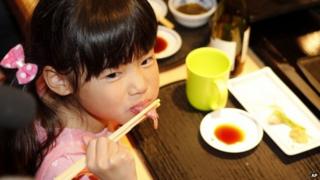 A bluefin tuna fish has been sold for a record £1.05 MILLION in Japan.
The 222kg monster was bought at an auction by sushi restaurant boss Kiyoshi Kimura, who admitted the cost was "a bit high".
The staggering amount is almost triple the record price set last year - also by Mr Kimura.
High bids are traditional at Tokyo's Tsukiji fish market's first auction of the year.
The top prices don't mean that the fish is the biggest or the best - they're more to help kick off the year's business and drum up attention.
Mr Kimura said he wanted to give a "boost" to Japan, which eats more than half of the world's bluefin tuna.
But environmental campaigners are warning that tuna numbers are falling because of overfishing.