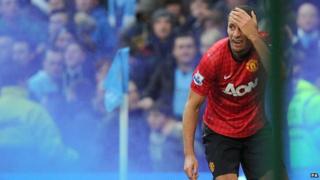 Rio Ferdinand is not pursuing a conviction against the person who threw a coin at him, say police.
The Manchester United player was hit just above his left eye with a 2p coin in the Manchester derby game on 9 December.
Police are still trying to find out who threw it but have not yet identified who it was.
The object was thrown from someone in the crowd at the end of the match in the Etihad Stadium.
A conviction is when someone is found to be guilty of an offence in a court of law.
After the incident, the Professional Footballers' Association said introducing netting around pitches might be necessary to protect players from similar incidents in the future.