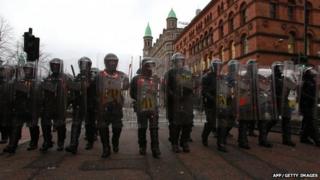 Police officers in Belfast have been attacked for a third day by people protesting over the union flag issue in Northern Ireland.
Around 100 loyalists used bricks, bottles, fireworks and smoke bombs on Saturday.
Police used water cannon in response and are investigating reports that shots were fired at them.
The protesters are unhappy about a decision to stop flying the union flag at Belfast City Hall every day.
Earlier on Saturday, up to 1,000 loyalists protested outside Belfast City Hall.
It's the third day in a row that protests have turned violent.
On Friday, nine police officers were injured in east Belfast and Newtownabbey after bricks, petrol bombs and missiles were thrown. 18 people were arrested.
Northern Ireland's First Minister Peter Robinson has called the violence against the police a "disgrace".
Union flag
The union flag represents Northern Ireland being part of the United Kingdom, something not everyone living there is happy about.
A vote to change how often the flag was flown at Belfast City Hall was taken in December.
Nationalists - who think Northern Ireland should be a part of the Republic of Ireland - wanted the flag to be taken down completely. But they agreed for it to be flown on special occasions.
The result caused anger from loyalists - they want to stay part of the UK and want the flag flown all year round.
Politicians in Belfast and London have condemned the violence.
For more information check out our guide to Northern Ireland.