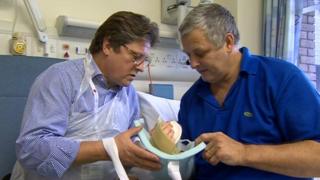 A 51-year-old man from West Yorkshire is making 'good progress' after becoming the first person in the UK to have a hand transplant.
Mark Cahill had been unable to open his fingers or use his hand for anything after it was affected by a type of arthritis.
Doctors say he is doing well after the eight-hour operation.
It's too early to say how much control of the hand Mr Cahill will get back, but he can already wiggle his fingers.
As well as being the first hand transplant in the UK, it was also the first time a patient's hand has been amputated during an operation to attach a donor hand.
Surgeons hope that within 18 months it will be a huge improvement on what he had before.
Prof Simon Kay said: "I would hope that he has a quite a strong grasp and a good ability to feel and a precision pinch."
Mr Cahill will however need medicine for the rest of his life to stop his body rejecting his hand. This can leave him vulnerable to infections like the flu.