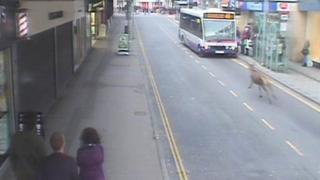 A deer has been caught on camera running down Chelmsford High Street.
The deer was spotted on Sunday and a woman was injured when it tried to leap over her.
The woman was taken to a nearby hospital but was later allowed home.
A roadblock was put in place to try and catch the deer before it injured itself or hit any cars but it hasn't been spotted since.
Perhaps the deer was checking out the January sales for a bargain!