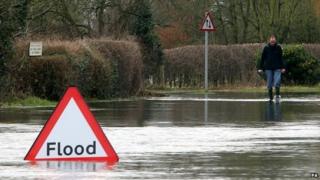 2012 was a massive year in the UK, we had the Olympics, the Diamond Jubilee and a lot of rain!
So much in fact that the Met Office have revealed that the last 12 months were the wettest ever in England and the second wettest across the UK.
Over 1300 mm of rain fell on the UK during 2012 and experts say the amount of heavy rain we get may be increasing.
The wettest year on record was in 2000 when the Met Office recorded an average rainfall of 1,337.3 mm across the UK.
Most areas of the UK were affected by the extreme weather last year and thousands of homes were flooded.
The wet weather also meant farmers struggled to grow crops because the soil was so wet.
This reduction in crops meant that food prices increased because there was less fruit and vegetables available.